TWO COMPANIONS
To many they might look like total opposites. Prague as the center of Czech culture trying for centuries to differentiate itself from German influences. Prague almost untouched during the war to become a living open-air museum as opposed to the almost-wiped-out beauty of the jewel on the river Elbe... Looking closer, they have more in common than just the river winding through.

ABOUT PRAGUE
For over a thousand years Prague has been a major crossroads of civilization. It has served variously as the capital of the Holy Roman Empire, birthplace of the Reformation, incubator of Renaissance science, home for Mozart and other celebrated composers, and a haven for artists and intellectuals.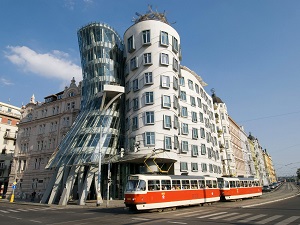 In the aftermath of Czechoslovakia's peaceful Velvet Revolution in 1989, Prague – quickly dubbed "The Paris of the '90s" – dusted off 41 years of Iron Curtain obscurity and reclaimed its venerable reputation as a cosmopolitan hub, rich in artistic achievement and intellectual originality. The city immediately became a magnet for thousands of artists, writers and entrepreneurs who flocked to the city from all corners of the earth, to be nourished by some of the world's most inspiring architecture, and the richness of a great central European culture. The arts – both classical and avante garde – are flourishing in the today's Prague, which boasts a year-round schedule of world-renowned festivals and exhibitions, plus a virtually endless selection of affordable theatrical events, museums, concerts, dance performances, poetry readings, and gallery openings. Prague boasts three famous opera houses, the acclaimed Czech Philharmonic Orchestra, numerous ballet and modern dance companies, and scores of rock, jazz, and dance clubs. Like Edinburgh, Prague also hosts an annual Fringe Festival which attracts an international theater audience.
Prague today is one of Europe's top tourist destinations, and – a far cry from the pre-Velvet Revolution days – boasts a highly developed infrastructure of hotels and restaurants, plus one of the best urban transport systems to be found anywhere, including a world-class international airport. It is also the temporary home to tens of thousands of university students from all corners of the world, attracted by its unique architectural heritage, intellectual and historical heritage, and central location within Europe.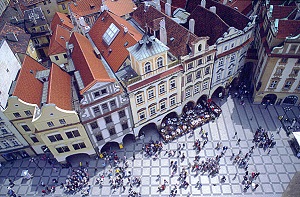 Would you like to know what´s up in Prague right now?
Look at
ABOUT DRESDEN
Dresden has a long and rich history as the capital of Saxony, whose kings lavished limitless treasure on turning it into a city deservedly called the Jewel Box. Though the city suffered terrible destruction from Allied bombing during 1945, and languished economically up until Germany's reunification in 1990, Dresden has 'come back' – its most famous buildings have been restored to their former grandeur and the city today is thriving. Simply put, Dresden is a Baroque and Rococco feast for the eyes and a treasure trove, and a marvelous destination for a day trip. The famed Old Masters Gallery at the Zwinger museum by itself makes Dresden a worthwhile attraction for lovers of the arts. Though Dresden and Prague are essentially sister cities – Prague's Vltava river soon meets up with the Elbe which then flows on past Dresden and eventually empties into the sea at Hamburg – their architecture presents an immense contrast. It would be hard to find two cities so close to each other that put on display how culture, history and art can trace distinctive paths.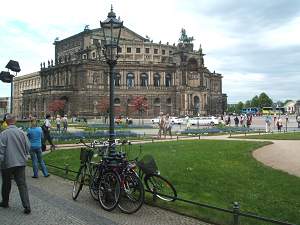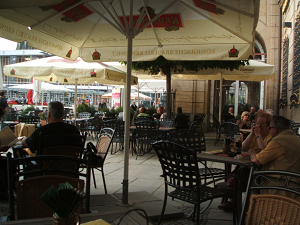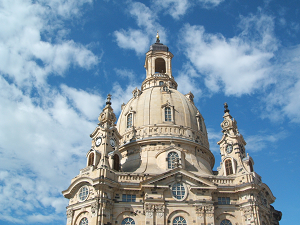 Would you like to learn more about the city?
Look at