ABOUT FLORENCE
Dubbed by the Romans "Florentia" – "destined to flourish" –when the city was founded in 59 BC, the name encapsulates the eternal spirit of this world treasure. Florence quickly rose to become one of the richest and most prestigious Roman cities. It still flourishes, offering its visitors constant inspiration. People come from all around the world to enjoy the artistic wonders of this special place, to savour the delicious Tuscan cuisine in the typical trattorias, and to admire the workshops where painters and artists can be seen at work. With artbreak™ you are invited to become one of them.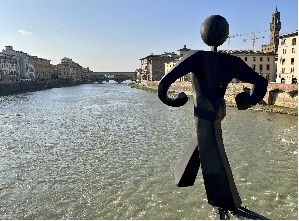 Florence is famed as a fountainhead of the arts, incubator of humanism and cradle of the Renaissance. Millions of visitors come each year to admire its architecture, be dazzled by its monuments, and file through museums containing some of the world's most renowned works of art. Its historical figures are legend: the poet Dante Alighieri, the architect Brunelleschi, the arts patron Lorenzo il Magnifico, the diplomat Machiavelli, and not least of all artists Botticelli, Leonardo da Vinci, Michelangelo, and Donatello. Its artistic and intellectual legacy basically has no equal. Justifiably honored as a UNESCO World Heritage site, its gifts belong to a grateful world.
The hilly area surrounding Florence and the city itself speak history. The first traces of Florence date back to the 9th-8th centuries B.C. when the Etruscans settled by the river Arno. Fallen in the following centuries under the dominion of the Byzantines, Ostrogoths and Franks, Florence was proclaimed a Republic in 1115, soon becoming a hub of art and culture, politics and commerce. It reached the height of its fame in 1400, a century in which, thanks to the auspice of the Medici family, the city became the fulcrum of the Renaissance. In 1569 Florence became the capital of the Grand Duchy of Tuscany, under the administration of the Medici and Lorraine family, establishing itself as a world-famous power. Between 1865 snd 1871 it even supplanted Turin as the capital of the Kingdom of Italy.
Though its role as a political hegemon waned from the 19th century onwards, Florence remains one of the most influential cities in Italy, especially when it comes to art and culture.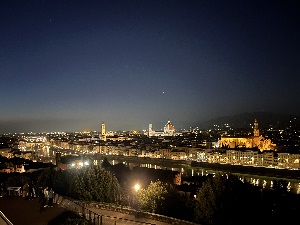 Would you like to know what´s up in Florence right now?
Look at
VISIT FLORENCE
or
FLORENCE EVENTS