artbreak™ Dresden meets Prague in Spring
Central Europe breaking the borders
prague-dresden-2015 date_start - prague-dresden-2015 date_end
OVERVIEW
The April 15 – 21 artbreak™ let's you explore Prague along with another of Europe's most beautiful cities, both linked by their proximity to the Elbe River. April is a particularly good time of year to experience Prague, as the arts scene is at a high point: The symphony orchestras are in full swing, the opera season is well under way, and galleries are hosting openings for artists. Mid April is likewise a fine time for our mid-week train ride down one of Europe's greatest rivers, to the architectural gem and artistic treasure trove that is Dresden. Expect a week of savoring golden architecture framed by golden leaves, great art, and unforgettable sunsets – and a learning experience you'll fondly remember. Don a toasty sweater, come with us and enjoy.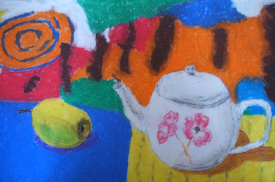 ART WORKSHOPS
Each of this session's morning workshops introduces a new medium, spanning from sculpting to water color. You will even sketch your way to Dresden on our Thursday morning train trip to visit "The Florence on the Elbe". A morning at artbreak™ is not a "master class" for professional artists but a chance for ordinary people to relish the catharsis and fun of artistic expression, in the supportive company of gifted art teachers. All artbreak™ morning workshops are designed to accommodate beginners: No prior experience or even prior interest is required – just a willingness to explore something new for a few days. That said, if you do happen to be an accomplished artist, artbreak™ is a no-risk chance to try new media for expressing yourself, and for meeting artists in a different country.
Learn more at
Get a real taste
PRICE
Includes
---
   6 nights accommodation at Art Hotel, an intimate 4-star hotel located in Prague's embassy district, with breakfast included.
  Morning arts workshops (covers tuition and studio materials).


   Admission to each evening's arts events (opera, symphony, ballet, etc.)
.

  Mid-week train trip to Dresden plus Zwinger and Frauenkirch entry fees.
   Wine and cheese tasting celebration, plus aperitifs, wine, fruit juice, tea & coffee at an afternoon sherry hour.
   Buffet dinner (Sunday) and farewell dinner (Friday).


   Tours (includes guides and admissions fees) of Prague's historic downtown and one of Prague's major art galleries.


 7-day Tram and Metro Pass valid throughout the Prague metropolitan area.
   Pick up from Prague airport & train stations at prearranged times.
   The artbreak price is "land only". There are no hidden extra charges. Please refer to FAQ for additional pricing information and event exclusions for non-participating guests.
PRICES IN EUR
prague-dresden-2015 priceeur EUR
single participant
prague-dresden-2015 priceguestfulleur EUR
participating couple
prague-dresden-2015 priceguesteur EUR
single participant & guest
CONDUCTORS
The artbreak™ arts instructors and guides have the experience, knowledge, intuition and passion for the arts it takes to make your vacation in Prague a perfect learning experience – and a lot of fun too.
Douglas   artbreak Impressario
has held numerous academic positions in the U.S. and the Czech Republic. His activities have involved public speaking and writing focussing on globalization and social change, and his consulting work has had an emphasis on creativity and entrepreneurship. Now semi-retired, Dr. Pressman spends much of his time indulging a life-long passion for classical and flamenco guitar.
Katka   Guide
has been with us since artbreak beginning. Her lively and deeply informative commentaries lead you through the rich history of Prague and Czech culture. Katka is a lovely personality, finding her sweet spot in life.
Klara   Atelier Manager
was born in Prague in 1974. She studied Management of Fine Arts at Western Czech University in Pilsen (BA) and then went on to do an MA in Theory of Culture at Charles University in Prague. She has been doing ceramics for 15 years and art all her life.
Tatiana   Workshop Instructor
was born in 1956 in Omsk, in Siberian Russia. She studied at The Art College in Pensa from 1975-1980. She thereafter moved to Moscow to study stage design at The College of High Theatre. In 1984 she became a member of the Union of Artists of the USSR. Tatiana has produced original staging and designs for over 40 plays and ballets.
Conrad   Prague based Artist
born in Kenya, and is a graduate of the Rhode Island School of Design. He has made Prague his artistic home since 2004. Conrad has taught for artbreak™ since 2010.
USEFUL LINKS
Would you like to plan for your trip?